Classic Neapolitan Cooking and Freshest Ingredients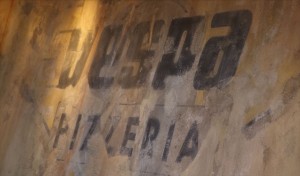 Owners Gerry and Tammy Haight know the importance and value of using only the best ingredients. It makes a difference, and guests know it. That's why Vespa Pizzeria was born from a vision to create an authentic Neapolitan-style pizza by incorporating traditional cooking methods and using only the freshest, highest quality ingredients.
The Neapolitan pizzas served at Vespa originated in Naples, Italy and are cooked in an Italian Mugiani wood fired oven. They have been using these ovens in Italy for over 200 hundred years! It is a very specific method of cooking in a oven reading a temperature of 750 degrees at all times. Wood is added to the oven throughout the day and night to keep this consistency. The pizzas are thinly crusted and cook very quickly and have to be constantly monitored so the pizzas are cooked with a slight charring and bubbling but not burnt.
Vespa has a menu based on Neapolitan influences using fresh ingredients. Our goal is to use local & seasonal ingredients when available. We serve natural & hormone free chicken, pork and beef.
Here is a list of our local partners and green distributors:
Ashley Farms Natural Chicken
Benton's Bacon
San Gusieppe Pepperoni
Caputo 00 Italian Flour-
(All natural, high quality wheat- no preservatives)
Extra-virgin olive oil
Housemade breads, sauces and dressings
Housemade desserts
Illy Italian Espresso and Cappucino
We also offer Gluten Free Crust